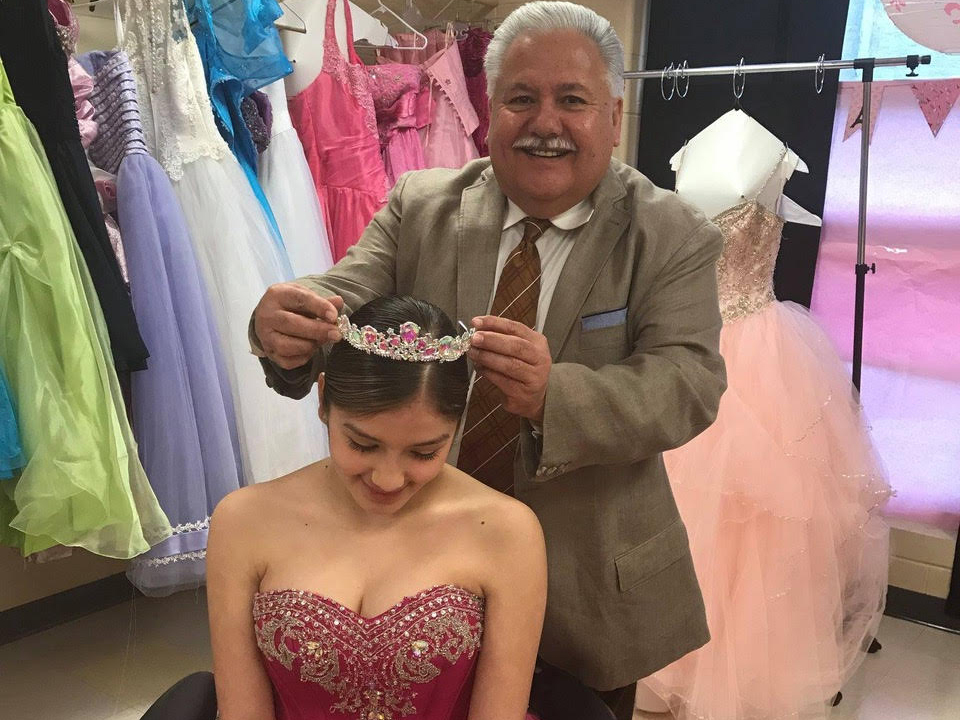 When there's a problem in San Benito, Texas, Gilbert Galván often comes to the rescue.

San Benito is a close-knit city of approximately 25,000, located near the center of the lower Rio Grande Valley – nearing the southernmost tip of Texas. Just as San Benito physically touches Mexico to its west, in the same way, the people and culture of both lands intertwine.

Gilbert Galván, who turns 68 this month, has played in integral part in maintaining the union of the two neighboring countries. As mayor of San Benito in the early 1990's, he was instrumental in the building of the Free Trade International Bridge at Los Indios which provides easy access to the Mexican border cities of Matamoros, Reynosa and Valle Hermoso, and Monterrey.

And more recently, as the principal of San Benito's Veterans Memorial Academy for the past seven years, he is known as the "Quinceañera guy." A quinceañera is an elaborate party, resembling the American "Sweet 16," which celebrates the transition in Latino culture from childhood to young womanhood. When he overheard some female students saying they couldn't afford one, he decided at that moment to provide this opportunity for every teenage girl in the town who didn't have the resources for one. The event has now become an annual town celebration, which grew from four, its first year, to nearly 75 young ladies, and five boys, being honored this past year.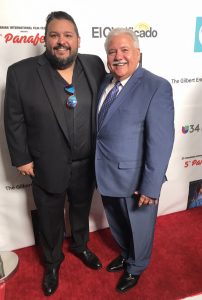 This community event has been so impactful, one of Galván's three children, Gilbert Jr., an attorney in the entertainment field, played a role in making sure this legacy was captured on film – along with Avenida Productions. The award-winning documentary, "Our Quinceañera," directed by Fanny Veliz Grande will be screening next at CineSol Film Festival in South Padre Island, Texas, on November 23rd and 24th.

Galván's very first quinceañera he volunteered to throw was as a freshman in college in 1972.

"We were 10 brothers and sisters, and I did one for my little sister," says Galván. "I am always ready to help people. [And now,] my goal to make my students happy…I tell the students I do all this, because they are our future. We need to encourage our youth to be bold and not be afraid – to challenge the world."

Galván says one of his greatest challenges working in education, for the past 42 years, has been dealing with the community to change the future of its students.

"Latinos have come up and improved and improved. I love that," says Galván, explaining he has always been hands-on his whole life. "If there are problems on the bus, I ride the bus. I go to students' homes and talk to their parents. They ask me, 'Do you really love us?' I say, 'Yes.' I tell them every time I see them that I love them."

Galván understands the importance of these gestures, because he didn't have an easy childhood himself.

"My grandparents came here from Spain," he says. "They traveled from Spain to Cuba to Mexico, and finally to Texas through a grant.

Once in the U.S, Galván and his family became migrant farm workers moving from state to state depending on the harvest seasons.

"We picked cotton and okra in Michigan, Ohio, and California, and we picked apples and strawberries in Oregon," recalls Galván about his farm laboring days which lasted until he was in the 10th grade. "We learned responsibility and money management, because my dad gave us money, and we had to buy food for the year…I was the first out of 10 to get a college degree, and when I did, my dad hugged my diploma for a week, or two, and that inspired me to help others in the community."

Today, as a high school principal, he uses the money management skills he learned at an early age to plan out the intricate quinceañeras he throws.

"I had one for my daughter – it is quite expensive. We have dresses that cost $1,000 or $2,000 and they're only worn once. [For the school quinceañeras], almost everything is donated to the girls," says Galván, explaining that the local bakery offers to bake the cake, the dry cleaners and seamstresses offer their services for free, and a conjunto (band) volunteers to play the music.

He says he also takes advantage of the excitement that the quinceañeras ignite in order to have meetings, with the students, and talk about college and careers.

"I tell them how to have a better future so that they can be prepared," says Galván. "I consider our community like a family, and this is a way to help. It makes them feel very important…and now when I'm out in the mall, they call 'Mr. Galván!" and they thank me, and they say, 'We have to take care of you when you get older.' I love them all."

The people of San Benito have garnered so much attention since hosting these unifying celebrations that other cities have started to take notice.

"Other school districts have called me for guidance," says Galván humbly. "Houston already started them…The most important thing is the happiness and success that result. People start helping in many ways and communities come together."

"I mainly want people to learn that there's always hope, and dreams can come true."