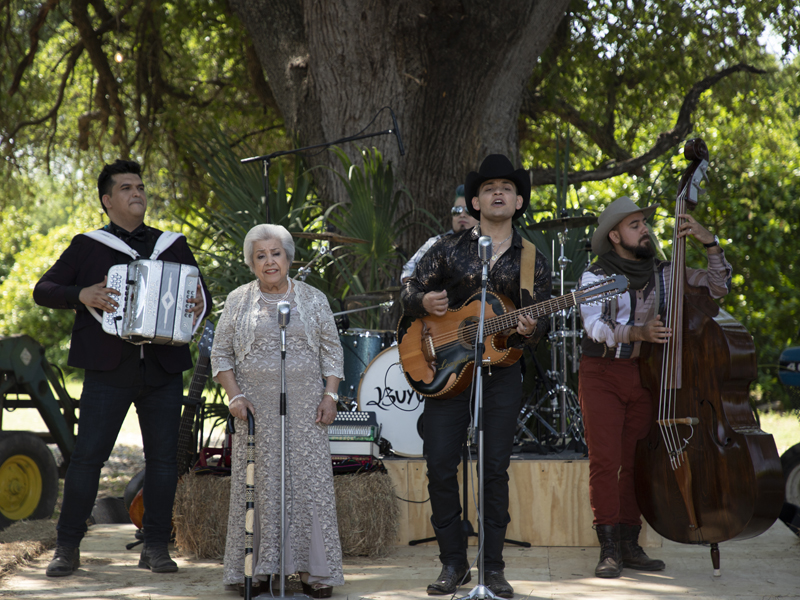 Irma Silva was born and raised on her family's ranch, "Rancho El Naranjo," in General Terán, Nuevo León, Mexico. Ever since she was a little girl, she dreamed of being a singer like her uncles who were members of the Norteño band, Los Alegres de Teherán, which formed in the 1940's. Instead, due to her family's wishes, she became a seamstress.

However, because of the encouragement from her grandson, Jorge Loayzat (singer and bajo sexto player of the Norteño band Buyuchek), to pursue music, Silva – now 81 – says her days are currently spent doing interviews for press around the world. She has not only completed her first album, "Las Canciones de la Abuela" ("The Songs of Grandmother"), but it has been nominated for "Best Norteño Album" by the 20th annual Latin Grammy Awards. This week, they traveled from their home in Monterrey to attend the red carpet event in MGM Grand Garden Arena in Las Vegas on November 14.












Irma Silva and her grandson, Jorge, arrive in Las Vegas on November 11 in preparation for the Latin Grammys. (Courtesy @JorgeLoayzat)

"I loved to listen to my father sing, and I used to love to sing," says Silva in Spanish, explaining that during the era of her youth, it was looked down upon for girls to pursue singing as a career.

She repeats often that she thought her dream of singing was over forever and still can't believe what is currently happening.

"I really thought that at 81, that it wasn't the right time…" says Silva, "I didn't want to do it, but my grandson is very stubborn. I am very happy now…very happy."

Working on the album, which took approximately a year, was also therapeutic for her because the 14th of November additionally marks the one year anniversary of the death of her oldest child of four.

"We filmed the music videos on the ranch of my family," says Silva. "Working on the album this past year…it helped me."

Creating the album also meant a lot for her 28-year-old grandson.

"I remember the songs she used to sing me when I was still in the crib," says Loayzat, explaining he has felt so many emotions working on this project with his grandmother who worked hard her whole life, and gave her all to her family. "I'm happier for her, more than for me. She has never even been to a concert, not to mention on a stage. I've already been singing for 16 years."

He says he had always wanted to record an album with his grandmother since as long as he can remember.

"I was thinking a simple album," remembers Loayzat. "It was my bandmates that motivated me to make a complete professional album. A lot of people got involved to help us complete it."

"I have a lot of friends whose parents sing very well, but they don't record them thinking that it won't result in anything," says Loayzat, "but I've witnessed, in doing this project, that working on something noble brings many rewards…one of them being learning that it's never too late to achieve your dreams."

It has also opened up more ideas for the duo to work together. Coming next is an album with the Norteño artists of his grandmother's youth, which is her next dream.

"We already recorded the song, "Nueve dias" ("Nine days")," says Loayzat, adding that his grandma sings it with Norteño legend Poncho Villagomez, and it will drop on November 22. "Unintentionally, she has just started a music career."

"I now want to tell young people to fight for your dreams," adds Silva. "I had once thought that I was too old, but here I am singing a very old song, 'La Pajarera' – the same song my teachers would make me sing when I was seven, and now I'm singing it again."
This time, however, she is singing on an international stage.