Wiser With Age tells the stories of inspirational individuals, 60 and over, in the hope of empowering others to pursue their dreams. Today, people 60, and up, are still accomplishing extraordinary feats – from leading orchestras to owning restaurants – and Wiser With Age wants to make sure their stories, and words of wisdom, get told.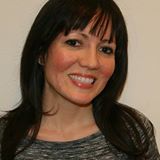 Founder and storyteller, Kristina Puga, has always loved listening to her elders ever since she was a young girl. By documenting the stories of older Americans, she hopes to bridge the generational gap and enable young and old to learn from, and inspire, each other.
Kristina is also currently a contributing writer to NBCNews.com and former web producer for NBCLatino.com, where she enjoyed writing profiles of inspirational Latinos in America – from respected scientists to filmmakers. She also interviewed influential women for her weekly "Latina Leaders" column and wrote an annual series about the "Hiring Our Heroes" job fair for veterans.
A graduate of The Columbia Graduate School of Journalism, Kristina has been published in The New York Daily News, Fox News, El Diario/La Prensa, TimeOut New York, AOL, Remezcla.com, among other publications. She was named Club Leader of the Future in Latino Leaders Magazine in 2012.
Follow Kristina on Twitter @kristinapuga, and please contact her if you would like to nominate someone to be featured on Wiser With Age, using the "contact" link above.