Grandma Lumen left the Philippines to become a public school teacher in the Bronx for more than 15 years. But she never forgot the family recipe for her favorite Filipino dessert, ube halaya, or purple yam pudding. This woman is just one fantastic person whose poise and influence shine at the Philippine Consulate where it seemed like just about everyone knew her.
So sit back and enjoy this episode! Also, as you watch this video, if you have any questions for Grandma Lumen, let us know!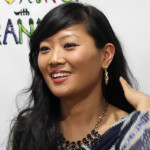 Caroline Shin is a multimedia journalist based in NYC. Recently, she launched "Cooking With Granny" – a Web series in which grandmas teach how to cook traditional dishes from their cultures while simultaneously sharing their funny, sad and surprising experiences with immigration and multiculturalism in a world that's very different from today's. Shin was previously a video editor at New York Magazine and holds an M.A. from Columbia Journalism School.