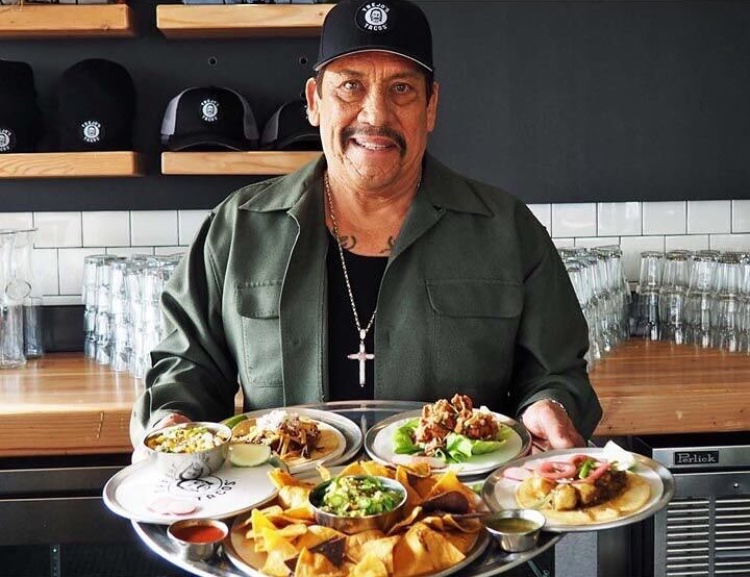 When you think of Danny Trejo, probably his legendary "tough guy" image immediately comes to mind – with a fiery explosion taking place behind him – like in the "Machete Kills" movie poster.
He is one of America's most hard-working actors, averaging four films a year (usually of the action genre) since the 1990's. Lately, however, he's been picking up the pace and expanding his repertoire (which now includes more than 370 credits) with some "softer" roles. Most recently, he plays Eduardo, a former attorney and grandfather, who saves the day by using his legal expertise in the film, "Grand-Daddy Daycare."
"I am a worker, I'll do whatever you got," says the five foot five actor, with tattoos, and a very kind, deep, voice that makes you feel like he's got your back no matter if you just met. "I am blessed."
Trejo still lives near where he grew up in Pacoima, California, with his six dogs. He says he usually starts his day early, because his life has only gotten busier now that he's 74.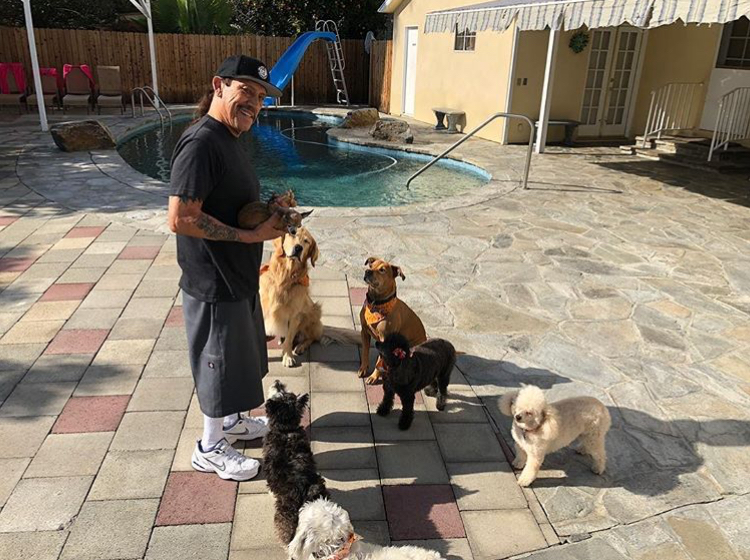 "I get up in the morning, say my prayers, and find out what I got to do," says the man on various missions. "Seventy is the new 50. I started owning restaurants at 70. I am now 74 and have eight restaurants."
In addition to appearing in more than a dozen films this year alone (including "The Prey," and "Remnants of the Fallen"), Trejo is owner of various food establishments in the LA-area, including Trejo's Tacos, Trejo's Cantina and Trejo's Coffee & Donuts. He also produces music through his DT Music label, volunteers as a drug rehab counselor, and is an overall good Samaritan whenever he can.
A typical day for him when he's not acting, he says, is waking up at 5am, visiting his donut shop, then going to auto mechanic shop to work on his cars, which is one of his favorite hobbies. At around 3:30, he might go check in at Trejo's Cantina – which he tries to do often because food quality is important to him, and he makes sure all leftovers are given to the homeless. Perhaps, he also wants his mom to be proud.
"My mom always wanted to open a restaurant, but my dad was like the Mexican Archie Bunker and he didn't like the idea," says Trejo, explaining that his dad wanted his wife to stay at home, because otherwise it made it look like the 'man of the house" couldn't provide.
"Right now, she's in heaven with my dad. She's telling him, 'You see! We should've opened a restaurant!," Trejo says laughing.
"I'm having so much fun right now. I have all my dream cars. I just started a record label. And we have a new album, Chicano Soul Shop Volume 1, will be dropping this month," says Trejo, sounding like he's just reached a peak in his life. "I am the narrator, like a radio DJ style."
Trejo's beginnings were far from glamorous, however.
His role model was his uncle Gilbert – a drug addict and armed robber. Trejo started using drugs at 8-years-old and was addicted to heroin by 12. He spent many years in juvenile halls and prisons, when he was released for good at 25. The reason: he prayed while in solitary confinement (because of a fight in Soledad prison) that if God would let him die with dignity, he'd devote his life to doing God's work and helping others.
Much to his surprise, Trejo was released the following year, in 1969, and he's been keeping his vow ever since.
"Every friend I have carries extra underwear and socks in their car," he says, explaining that in case they see a homeless person, they have something to give them. "God intended us to live by helping our fellow man."
Trejo became a drug rehab counselor when he left prison and did that full-time for 17 years, before he got his first acting gig by chance. Today, he still helps heroin addicts at Western Pacific Med Corp. drug rehabilitation facilities.
"Everything good that happened to me was a direct result of helping someone else," he explains.
That, and maybe one of the traits he seems to have inherited from his father also helped – being a hard worker.
The most important piece of advice he says he gives his three adult children is, "The key to success is perseverance. You gotta keep going to be a hit."