My mom celebrated her 61st birthday on Tuesday. Thankfully, she's still hanging out with me in NYC until I get my apartment and am all settled. I decided to ask her what her top six moments of the last 61 years have been. Here you go (in chronological order and not necessarily order of importance):
From listening to her I was reminded of the importance of gratitude. She's so thankful for all of these experiences. She's humbled by so many of them and realizes how fortunate we are. She doesn't feel entitled or like these are experiences she's earned. She's just grateful.
The crazy thing is five out of her six best moments have happened in the last 31 years. As usual, she reminds me it's never too late.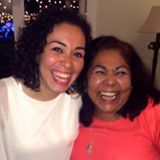 Victoria Moll-Ramirez is a broadcast journalist based in New York City. She is originally from Miami, FL and had the great fortune of being raised by the sassiest, spunkiest, wisest, most hysterical Honduran woman in the world. Victoria's mother, Bélgica, is 60-years-old, resides in Little Havana (Miami) and enjoys a good margarita accompanied by a heartrending ranchera. Victoria blogs about her mom's funny and wise sayings on, "In My Mother's Words."
Comments
comments