Age 5: I saw a woman use a basket full of crayons and her broken English to teach me my colors. I learned who your first teacher really is.
Age 7: I saw a woman who saw herself alone with two small children to raise. She wasn't sure what she was going to do or how she was going to do it. I learned about the unexpected hits life may give.
Age 8: I saw a woman who wiped her tears, held her head high and knew she had to move forward. I learned about perseverance.
Age 10: I saw a woman who worked overnights so she'd never miss any athletic or schooling events. I learned that sleep is a luxury when it comes to being a mom.
Age 13: I saw a woman hold her brother's hand and pray as he was taking his final breaths. She knew it was his time to rest. I learned about endless religious faith and selflessness.
Age 15: I saw a woman who picked up an extra job on the weekends passing out flyers and wearing a sandwich board just so I could have a quinceañera party. I learned that there is no shame in an honest living.
Age 19: I saw a woman oozing with pride because her eldest graduated college. Her goal was halfway complete. I learned how much value "a little piece of paper," (as she calls college degrees), contained.
Age 21: I saw a woman who handed her car keys over to me after I totaled my car. She was just glad I was ok. She took the bus for a month after that. Of course, she didn't tell me. I learned that there is a solution for everything except death.
Age 22: I saw a woman whose ultimate goal in life had been met. She put both her kids through college. She was done. I learned about the value of hard work and unconditional love.
Age 24: I saw a woman who went to New York for the first time. She had always wanted to see the Statue of Liberty and wasn't sure if she ever would. I learned that it's never too late, it will always be just as sweet.
Age 26: I saw a woman who became the life of the party! She's loved by all her children's friends. I learned the fine art of balancing being a parent and a friend.
Age 28: I see a woman who is finally making her life about her, until her kids call saying they're flying her to Chicago for Mother's Day or need her to drive up to Atlanta with them. I'm learning that being a mom is a job that's never over, but there's never a dull moment.
All her words of wisdom and advice are proven true as time goes on. However, her actions are what constantly leave me baffled and humbled to know someone out there loves me so much. The best part is her reaction to this post will be:
"Bueno mija, y de que otra me quedaba? Pa'lante y pa'lante."
           (Well, my daughter, what other choice did I have? Onward!)
She's right. Happy Mother's Day, Mami!
For the article in Spanish, click here.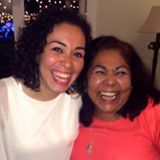 Victoria Moll-Ramirez is a broadcast journalist based in Atlanta, GA. She is originally from Miami, FL and had the great fortune of being raised by the sassiest, spunkiest, wisest, most hysterical Honduran woman in the world. Victoria's mother, Bélgica, is 60-years-old, resides in Little Havana (Miami) and enjoys a good margarita accompanied by a heartrending ranchera. Victoria blogs about her mom's funny and wise sayings on, "In My Mother's Words."
Comments
comments