Yesterday would have been my late and adored parents 36th wedding anniversary. The date got me to thinking about some of the many lessons I learned from them about finding and sustaining lasting love.
Love comes along when — and where — you least expect it: My mother was my dad's secretary, and it was far from love at first sight when they met. Years and two respective divorces later, they began to see one another in a new light.
Love means taking a risk — and letting go of the past: Mom wasn't initially convinced that Dad was worth the risk. He, meanwhile, wasn't too keen on investing himself in a serious, committed relationship. Both of them got past their fears, even though it took a few bumps (and breakups) along the way for them to get to saying "I do."
Love is a job with lifetime benefits — if you're willing to do the work: Relationships have their ups and downs, and my parents' relationship was no different. But they never took each other for granted, or stopped paying attention to the important stuff big and small — from taking good care of themselves physically to sending cards for no occasion except to say "I love you."
Love is the best medicine: Whether facing small challenges like the ongoing drama attending their daughter's love life or great battles like cancer, Mom and Dad always drew strength from one another. I think that's why, between the two of them, they survived a combined 26 years after being diagnosed with cancer.
Mom and Dad's enduring love set the bar pretty high for me when it comes to happily ever after. But that's okay. I'm ready, willing and able to do the work to make it happen.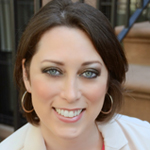 Melissa Braverman is a writer and award-winning hospitality marketing professional. Her first foray into the blogosphere, Single Gal In The City, garnered critical acclaim and made her a leading voice about dating and relationships. Born and raised in Manhattan, Melissa is currently blogging about life in the Big Apple at www.newyorkcitygal.com. Follow Melissa on Twitter at @MelissaNYCGal.
Comments
comments